Suggestions for Storage
Create an account for on-line file storage using a NON-W&L email account (we do not make any specific recommendations, but here are a few)

Log into MyVI
Launch the Chrome Web browser
Navigate to your on-line storage provider (from step 1)
The following instructions are for Google Drive; if you use another service, they will be similar:

Log in Select New -> File Upload
Navigate to This PC
Open your H drive
Select files to move to the cloud service

Depending on the amount of data, you might need to move a few files and let that upload complete before moving the next set of folders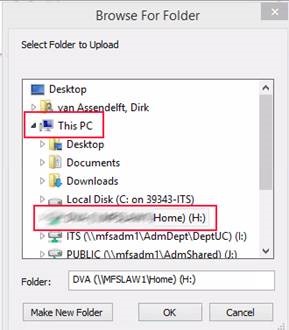 Move your Box Data
Create a PERSONAL Box account using a NON-W&L email account
Log into you W&L box account
Click on the "Share" for any folders you want to move and select "Invite collaborators"
Add the account from Step 1 as a "Co-Owner". They will appear as Pending
Log into your PERSONAL Box account and accept the "Collaborator Invitation" from Step 3 (this will update the collaboration from Pending to Co-Owner)
Log back into you W&L email address; click on the folder you have shared out.
In the Upper Right will be a list of people you have shared with; change the sharing for the Personal Account from "co-owner" to "owner"
Click OK on the following message
If you log back into Box with the PERSONAL account, you can remove your W&L account as an Editor
All files on the folder from step 3 are now owned by your personal account
Set up your W&L email
If you elect to keep using your W&L email you will need to continue to change your password yearly.
If you elect to not use your W&L please set a temporary forward rule on your account as the account will be removed.
How can I find additional help or support?
For more information, please contact the ITS Information Desk in Leyburn Library at (540) 458-4537 (HELP) or help@wlu.edu.